Hot Water Repairs and Installation
Hot water is a necessity for daily life. If your hot water service is no longer working, or if you think you may need a new system, call the team at Select Plumbing and Gas. We will help you get your hot water system working again or replaced if the current system is beyond repair.
Our standard hot water services as well as 24/7 emergency call outs will have you up and running or replaced quickly and fuss-free.
We are experienced in:
Gas hot water systems
Electric hot water systems
Continuous flow hot water systems
Heat pump hot water systems.
Whether it's fixing your existing hot water system, attending a leak, repairing a hot water heater, replacing an older unit, or a shortage of hot water there is no job too big or small for the Select Plumbing and Gas team. 
What Size Hot Water System Do I Need?
We can also advise you on the best hot water system to suit your domestic or commercial needs taking into account how many people use the hot water and when, how many bathrooms, laundries and kitchens are drawing from the unit as well as the energy star rating.
Call us on 0420 646 641 and we can advise you on the best solution for your requirements.
Partnering with renowned brands such as Rheem, Aquamax, Thermann, Dux, Rinnai & Everhot we can supply an efficient solution to your hot water needs.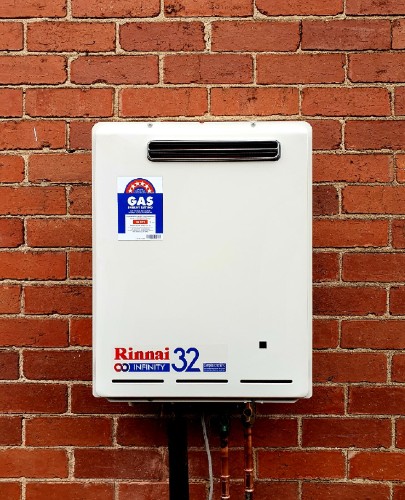 As well as replacement and repairs the Select Plumbing and Gas team also offer servicing of your hot water system tailored to:
Gas Hot Water Systems
Electric Hot Water Systems
Continuous Flow Hot Water Systems
Storage Hot Water Systems
Gravity feed systems
Mains pressure systems
Most of us don't pay much attention to our hot water units until they stop working. To help you understand your system a little better here are some basics:
Continuous Flow Hot Water Systems
A continuous flow hot water system is sometimes known as an instantaneous hot water system.
These types of hot water systems heat the water inline with the demands of the home. Unlike other hot water systems they do not hold or store hot water for later use and are often much smaller in size. Because these units heat water that matches the demand of the home and don't hold hot water for later use you will never run out of hot water!
Mains Pressure Hot Water Systems
A mains pressure hot water system may also be referred to as a storage hot water system. These systems feature large cylindrical tanks which are used to heat and hold hot water. Mains pressure hot water systems are available in both gas and electric elements and are the most popular units found in Melbourne and the surrounding areas. Once the water is heated and stored in the tank mains pressure is used to push the hot water to the outlet or tap for use.
Gravity Fed Systems
Gravity fed hot water systems use the power of gravity to supply hot water. These systems can be found in your roof or ceiling and heat the water through an electric element. These systems are most commonly found in older style properties and are rarely used for new builds. Because the mechanics of this unit relies on gravity rather than mains pressure residents often find that the water lacks pressure.
If you are experiencing problems with your hot water system or its been 5 or more years since it was last serviced contact the team at Select Plumbing and Gas to have your system reviewed.
You can have peace of mind when you contact Select Plumbing and Gas, with over 10 years experience servicing the north western suburbs of Melbourne, including Essendon, Moonee Ponds, Gladstone Park, Pascoe Vale, Coburg and surrounding areas.
With thousands of happy customers across Melbourne, Select Plumbing and Gas have built a reputation on reliable service, quality workmanship and great customer service. It's good, old fashioned values that our customers love that have allowed us to become one of Melbourne's favourite plumbing and drain specialists.
10% Seniors Discount.