Honest, reliable local Melbourne plumber
We are an affordable local plumbing business servicing all north and western Melbourne suburbs.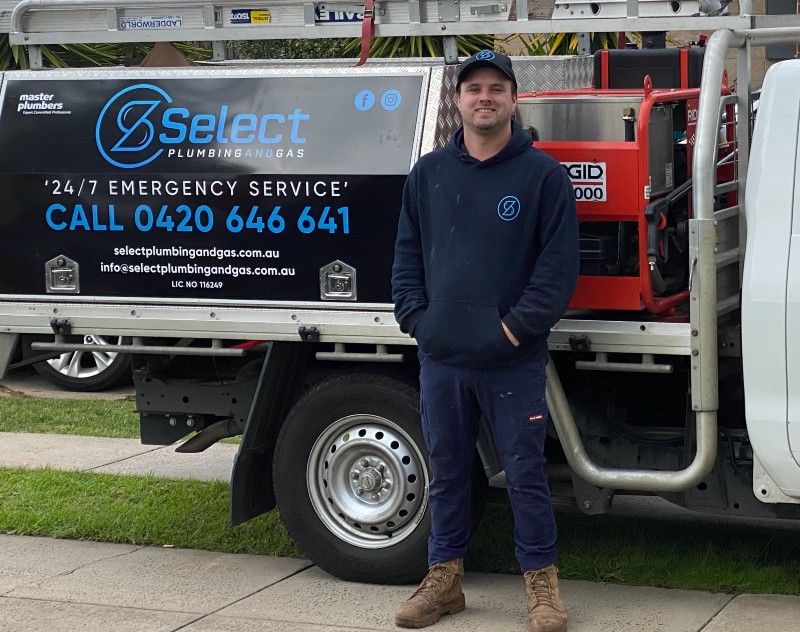 Your Local, Professional Plumber
We pride ourselves in offering a friendly service that you can trust. We can guarantee you will feel comfortable having us in your home to take care of your plumbing needs. Our aim is to make every single visit stress-free and easy from start to finish. 
Blocked drains can cause havoc for your home or business. Select Plumbing & Gas are experts in ensuring your blocked drains are cleared quickly and effectively.
The Select Plumbing and Gas team are available 24 hours a day, 7 days a week for emergency plumbing call outs of all shapes and sizes including gas leaks, leaking pipes, toilets, burst pipes and hot water outages.
Whether it's fixing your hot water system, attending a leak, or replacing an older unit there is no job too big or small for the Select Plumbing and Gas team. We are familiar with both gas and electric hot water systems.
Our  team of Master Plumbers are experts in detecting water leaks and gas leaks, and will fix your taps, pipes, drains and appliances to make sure  they don't come back.
Friendly team and good prices
infinity group
13:21 29 Dec 20
I've had the team from Select Plumbing and Gas come out to our Moonee Ponds house several times now - to fix a tap, replace a toilet and to install a missing stormwater drain to stop the water pooling under our house. They are professional, friendly and affordable. Highly recommend!
Caroline Golden
06:34 10 Nov 20
Luke is a really honest guy and will do the best job possible job.
Lynnie Tyrrell
10:48 23 Oct 20
Luke and team were really professional for the job requested in Strathmore Heights. Answered my online query within 10 minutes. Really efficient and even did additional covering of brick wall for free. Happy to recommend.
Nida Javed
02:17 08 Oct 20
Rachel Eid
01:36 28 Aug 20
Luke and his team were extremely helpful and honest about works that needed to be done. Effective and reliable resolution opinions were presented and it has smooth sailing since. I would definitely recommend Select Plumbing and Gas to friends and family
kez ozkaraoglu
22:37 27 Aug 20
Luke from Select Plumbing and Gas is an honest and thorough plumber who we have used two times. Every time we have called on him, he has been professional, friendly and is definitely a tradesman we can trust. His workmanship on both occasions was thorough and he was able to explain things to us in a down to earth and comprehensive manner. He is the only plumber we would use for all our plumbing and Gas needs.
Luke came out to my place same day. Was professional, honest and well priced. Could not recommend any higher.
Mario Lonigro
23:14 21 Aug 20
Luke was very professional. He came and fixed everything for me super quick. Very reliable and affordable.
Joanna Krikelis
04:56 17 Aug 20
Great quality and person centred approach. They are genuine and honest. Their mindset is long term customer service. They give free of cost quotation, which I believe no one gives in today's day and age. I would highly recommend and will spread the word of mouth in my circle. Huge respect for Luke and his team
MD SHAHBAZ KHAN
12:57 14 Aug 20
Luke was a fantastic workman, always on time and had exceptional attention to detail. He fitted out our whole bathroom renovation and never seemed bothered by my crazy amount of requests! Highly recommended. 5 stars!
Luisa Lipsia
09:29 12 Aug 20
Such great service. I needed him for an urgent job today for a neighbour and he was prompt, courteous, professional and very generous with his time. Did a great job!!! Can't recommend him highly enough.
Zara Fayad
07:01 14 May 20
Should you be lucky enough to have stumbled on Luke's number do not waste your time and energy (as I did) in searching for someone else, he is AMAZING! Luke is so generous with his time in diagnosing and explaining the issue and goes to the effort to make sure the job is done right the first time. Oddly I cannot wait to have plumbing issues again - I'll know without a doubt who to call! Thank you once again for coming and helping us out 🙂
Biljana Zjajic
22:52 09 May 20
Very happy with the responsiveness, quality, value and skills of Luke and Anthony. Highly recommended!
Maria Umali
23:26 04 May 20
Luke and his team are fantastic to work with. On time and professional work for good value for money. Would always recommend him.
Christina Wilson
00:16 26 Apr 20
Great, professional service. Luke took care of my hot water and other issues immediately
Volkan Kaman
00:09 25 Apr 20
Luke is brilliant! He was very professional and the quality of his work is second to none. He explained everything to me as he was going, used the best quality fittings, cleaned up after himself and was a real pleasure to deal with. He was always punctual and notified me if he was going to be delayed. He has a young female apprentice. Watching the way he interacted with her and showed her the ropes was lovely to see. I would recommend Luke in a heartbeat.
Karen Lamont
23:51 24 Apr 20
Luke responded to my online post looking for a plumber & came out the next morning. He was polite, friendly & honest about our obsolete parts, informing us of all our options and the costs up front.He worked efficiently and cleanly and adhered to current COVID-19 protocol. We would highly reccommend Luke.
Josephine Elia
23:41 24 Apr 20
Fantastic, honest, friendly advice and service provided. Luke advised what needed to be done, and explained clearly why certain options would work and others would not. He was mindful of social distancing during the COVID-19 crisis. Highly recommend.
James Tizard
23:41 24 Apr 20
We had Luke replace one of our toilets. He was great, looked after us really well. Would not hesitate to refer him to anyone. Carolyn and Steve Fraser
Carolyn Fraser
08:50 14 Apr 20
I was really impressed with Luke and would recommend him to anyone who asked! Excellent plumber
Laura Barnes
07:06 12 Feb 20
Luke was fantastic. Very friendly and and totally transparent about the work that needed to be done. He did a great job!
Michael Virgo
08:33 01 Feb 20
Today I had luke come n fix my toilets what a wonderful young man he was prompt n honest will use him again thankyou like
Maria Tomasello
23:55 29 Oct 19
I had a leak under the house and was quite stressed as I was losing a lot of water. I called Select Plumbing late Wednesday night to hopefully get someone out to have a look. They came first thing the following morning, on time with a very positive and professional attitude which took some of stress off. Found and fixed 2 breakages in my hoses. What a relief. Very reasonable rates and wonderful service. Thank you very much to you Luke. An absolute gentleman and a real pleasure to deal with. I'd give Six stars if I could. Thank you, Thank you, Thank you.
Con Giovas
13:05 15 Aug 19
Top bloke, came quickly and fixed the issue in no time
Georgia Karagiannis
12:22 07 Aug 19
I highly recommend Luke from select plumbing and gas. Very knowledgeable and prompt.
Alexis Markowicz
03:40 09 Jul 19
Luke was great. Came on time and very polite and respectful. Fixed our hot water service when others quoted us thousands for a new unit. Could not recommend highly enough.
Kate Kelso
09:48 08 Jul 19
I strongly recommend Luke from Select Plumbing and Gas. Great communication and excellent service.
Tahleah Gillard
06:59 22 Jun 19
Luke just attended my property to unblock my drain. Thank you for the prompt service, certainly recommend and will use in the future!
Marc De Petro
11:38 13 Jun 19
You cannot go wrong with Luke from Select Plumbing & Gas, such a down to earth, decent, trustworthy and all round good guy, sometimes rare to find these days.He was prompt to come over and quote once I was in touch (via a recommendation on Moonee Valley Buy Swap Sell Group Page)...Such a pleasure to deal with, he did a fabulous job installing a new toilet in our laundry and we are very very happy customers.I would highly recommend him for any plumbing work...we will most certainly call him if we need anything else and recommend him to all our friends
Elaine Morales
01:55 05 Jun 19
Luke communicates well and was efficient and professional, very happy with his work.
Naomi lopez
23:30 31 May 19
Luke will go out of his way to get the job done correctly. I have used him to completely renew the plumbing in 2 houses and would not hesitate in using him again. He is professional, hard working and reliable, worth the money to get the job done right first time !
Jon Simson
23:35 28 May 19
Fantastic service by Luke.Responded quickly to my urgent call, great communication and knowledge of his Trade. Best Trades person I have come across in the last 5 years.Hard worker and I very happy with his work and will use again.
Colleen Topping
09:35 27 May 19
I would recommend Luke to anyone, he is reliable, very efficient, excellent work done, professional, reasonable rates, down to earth, honest, great personality. Thank you Luke you deserve more than 5 star
Sevda Cemal
22:26 02 Apr 19
Luke's service was great!
Luke was professional, punctual and he deliver the job beyond expectation. Highly recommend, use his service with confidence
Abdulmunim Al-Arosi
01:35 13 Mar 19
Luke was professional and so helpful. He quoted and completed the job brilliantly. He is competitively priced and I would recommend him for any plumbing job wholeheartedly . He is now my "go to" plumber.
Bianca Catalucci
02:13 10 Mar 19
Luke and his team did a great job on my bathroom renovation! Very friendly, with great communication. Would definitely recommend.👍
Very commited to the job - excellent attention to detail and all around great customer service. Thank you!
Anthony De Luca
06:16 01 Mar 19
Luke was amazing, Problem identified, issue at hand rectified. On time, friendly. Emergency call on a Sunday morning and was there when he said. Highly recommend.
Good Person, honest advice , great service, reasonable charges. Managed my emergency work with full responsibility and care.
Yazan Iftikhar
08:14 12 Dec 18
Luke was great, he communicated well about his arrival time and the problem with the toilet. He was courteous and friendly. He fixed the problem quickly and efficiently. I would totally recommend Luke from Select Plumbing and Gas.
Susie Hancox
21:46 04 Dec 18
We required our sewerage unblocked. Luke came the next day, stayed until the job was done. Very reasonable costs. Would definitely recommend.
Glen Forster
10:46 14 Nov 18
Thanks again for your help Luke. after spending hours getting quotes other plumbers not showing up or were late. Luke came in and bet them on price and on time. I would highly recommend Luke to anyone needing any plumbing work done excellent customer service and advise. I even had another plumber come around to sign some work off he did prior to Luke commencing and he even commented on how neat Lukes work was
matt munyard
10:19 25 Oct 18
We've used Select Plumbing a couple of times recently. Luke was very responsive. He was friendly and competent. Good service at a good price. Will definitively use them again. Helen
helen casey
09:12 21 Oct 18
We had an ongoing issue that we had trouble fixing over a long period of time and we are glad we found Luke who was amazing and thorough with his investigations! He was professional, friendly, honest and really committed to providing solutions. Can't recommend him enough.. thanks Luke!
Luke is a reputable and professional plumber. He helped us with the plumbing across our home, and worked long hours to help us move in and make sure the plumbing was all ready. He always picks up my calls and texts when things go wrong, and commits to coming out and fixing problems, which really takes the stress out of the situation. He's fair and honest, and I recommend you use him.
Leasha Lilley
05:36 05 Oct 18
Highly recommend select plumbing and gas!!Luke is very knowledgeable and professional to deal with. Took the time to explain the work from the start to finish in simple language. Will definitely use select plumbing and gas for all our plumbing needs and will be passing his number on. 5 stars!!!
Anthony plessas
09:17 04 Oct 18
Select plumbing and gas offer a reliable and quality service and I cannot recommend them highly enough!
James Davey
09:07 04 Oct 18
Highly recommend Luke from select plumbing and gas. He's our go to plumber
Martin Riley
08:57 04 Oct 18
Great work, would definitely recommend!!
Kirsty Ladgrove
08:56 04 Oct 18
Attitude 10/10. Knowledge 10/10. Professionalism 10/10. Time management 10/10. Highly recommended !!!!!!
Dragan Glogovac
20:46 26 Sep 18
Excellent service, after calling a few other plumbers and them not arrive Luke came out at the time he said he would arrive, fixed my blocked toilet quickly and was very affordable, will be passing his details on to my friends
Andy Dojcsak
00:18 25 Sep 18
He did a very good job I highly recommend select Plumbing and Gas and reasonable price too and he will make sure u are happy with the service . Thank you .
Rowena Rojo
01:36 22 Sep 18
I am genuinely impressed with Luke's professionalism and honesty. From pricing to completion of works I am more than happy with the services this company provides. Highly recommend!
Dean Santilli
08:04 20 Sep 18
Really happy with Luke and his work. He helped us with our leaking toilet and had it up and running in no time. Would definitely recommend.
Maddy Radloff
00:21 20 Sep 18
Luke was very professional, efficient and helpful when fixing our plumbing needs. Would highly recommend Select Plumbing and Gas.
Bree Pringle
03:07 19 Sep 18
i had luke from select plumbing and gas come to my rental property to have all my appliances checked and serviced. he was great to deal with. made everything easy from start to finish. highly recommend.
yaz bruzzese
05:05 17 Sep 18