Best and Worst Trees to Plant Near a House
You might be thinking of planting some trees around your own home or maybe purchasing a property and are curious what trees are planted already. That's great because trees are a wonderful thing; our earth needs them! They help balance our ecosystem; maintain biodiversity; enrich the soil where they stand and help control our climate. They're also handy for controlling rapid rainfall, preventing flooding and overflowing our drains.
All these things are great and sometimes we forget the vast array of benefits they provide in helping our planet. Most of the time though we think about their aesthetic qualities, how they attract and house the many different types of wildlife in Australia and the shade they cast to shelter us from the heat and cold in a city with weather extremes like Melbourne.
These reasons and more encourage Australians to plant trees in their backyards, gardens and all over our properties. What should we keep in mind when doing so? Pipes! Beneath the ground systems of pipes and drainage keep the flow of water and sewage flowing correctly. Knowing which trees have invasive roots; roots that will infiltrate cracks and weaknesses in pipes will prevent disruptions to your everyday water surface not to mention a lot of expense in the future. After all, roots will seek out water and moisture wherever they can find it and your pipes have a steady supply.
How Far to Plant a Tree From Your House
Large trees should be spaced around 10 metres away from the property while medium and smaller trees can be planted closer while they should be a minimum of half a metre away from water assets. Properly maintaining trees will go a long way to preventing any hassles caused by invasive roots. If a tree is 12 metres tall, its root system could be twice that size under the surface.
Lessen any hassles by simply contacting your local government to let them know of your tree planting plans and learn of any regulations to follow. They can provide you with useful information on where and how to plant your trees.
So which trees have invasive roots? What are some better alternatives with less invasive roots? Which are the best trees to plant near sewage pipes in Australia?
Best Trees to Plant Near Your House
These trees have less invasive roots and are suitable for domestic gardens in Melbourne.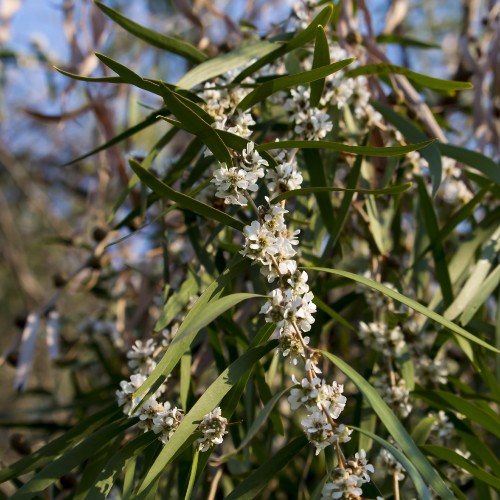 Peppermint Tree
Don't let the name fool you, these trees won't be supplying you with a nice cup of tea but they will have that lovely mint smell! What they do provide however is a terrific amount of shade and are a favourite of people who like to sit out in nature. Peppermint Trees are popular street trees as they are both easy to grow and maintain while also being attractive.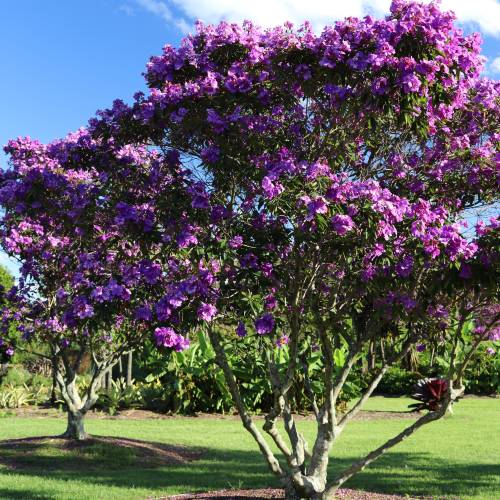 Alstonville (Tibouchina Lepidota)
If you're looking to add some colour and vibrancy to your garden in quick time then this tree with its striking purple flowers might be what you're looking for. As a medium sized tree, it won't become out of control and will provide an attractive look for any garden particularly in summer.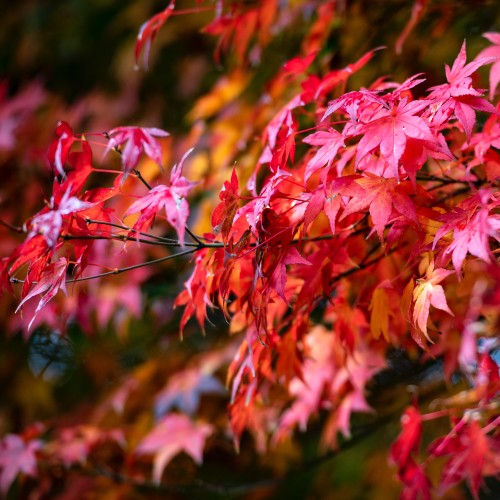 Japanese Maple
Another tree that provides a rich amount of colour is the Japanese Maple tree. Trees of this sort grow to a height of around 5 metres making them perfect for gardens. They possess a wide range of shapes and colours in their foliage (orange being my personal favourite) and no Zen or Asian-inspired garden would be complete without one.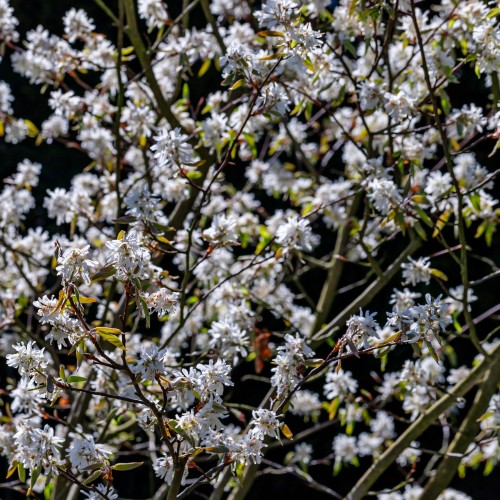 Downy Serviceberry
If you're looking to attract wildlife to your garden then a Serviceberry tree might be for you. These highly adaptable trees provide little bits of fruit in the form of pomes (fleshy fruit with seed chambers) that can provide food for birds and even humans. Around Summer the foliage is a nice deep green but in Autumn will turn a shade of red, orange or yellow.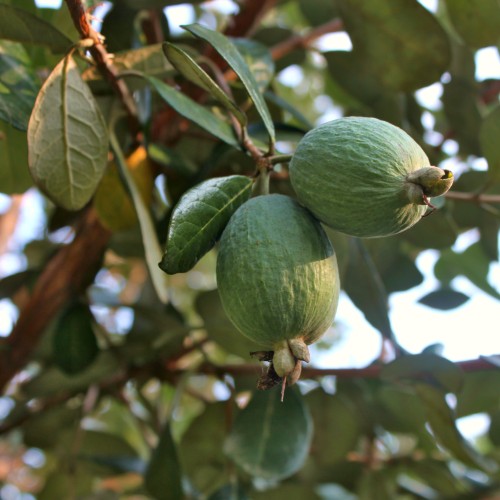 Feijoa
A small but strong and hardy tree, the Feijoa is an excellent choice as a hedge or windbreak for your garden. They grow and eventually drop to the ground a tasty fruit not only good for local birds but humans as well with a taste described as something akin to a passionfruit, pineapple or guava
Worst Trees to Plant Near Your House
Although many of these are attractive trees, their invasive root systems make them unsuitable to plant too close to your house or drains.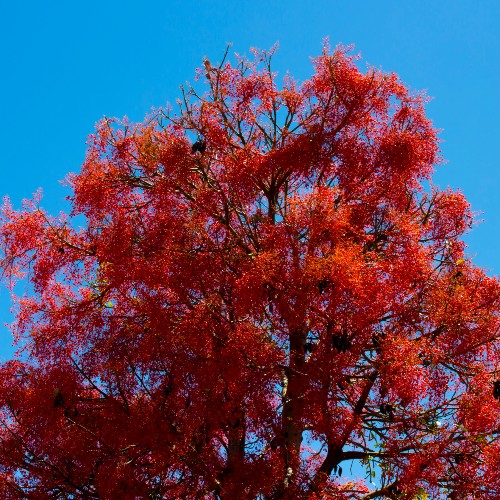 Flame Tree
Flame Trees, such as the Illawarra Flame Tree, are beautiful specimens which a rich and ancient history in Australia. Cold Chisel even sing about them in their track "Flame Trees". No one can deny their distinctive red foliage is striking but planting them in our gardens can be a real headache as the root system can play havoc with underground pipes and lines if the tree is not properly maintained.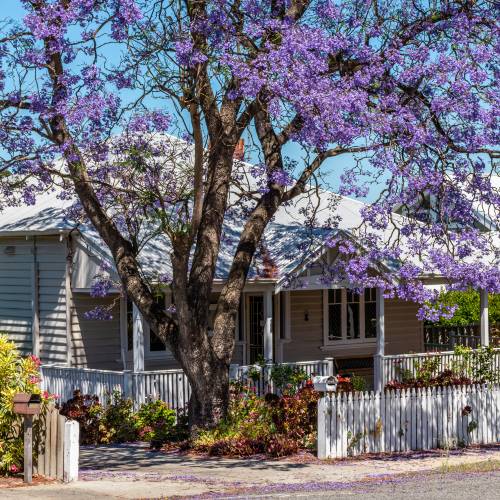 Jacaranda
Like the Flame Tree, the Jacaranda is a particularly pretty specimen that can have its own fair share of problems. With an aggressive root system, the Jacaranda can cause issues by blocking drains and sewer pipes.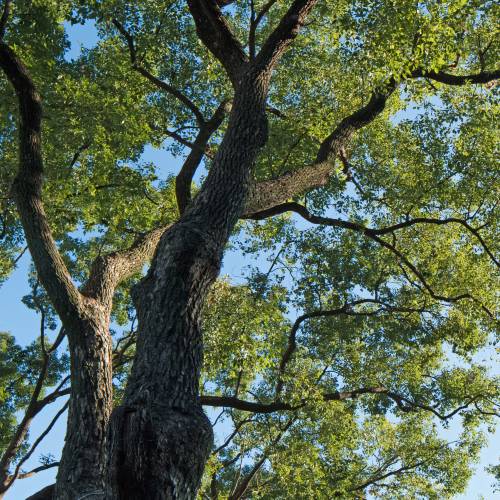 Camphor Laurel
The Camphor Laurel is often seen on street verges and roadsides as well as gardens. Its issue is not only with its aggressive, sometimes massive root system but that is also competes with and overwhelms native species, often preventing them from regenerating.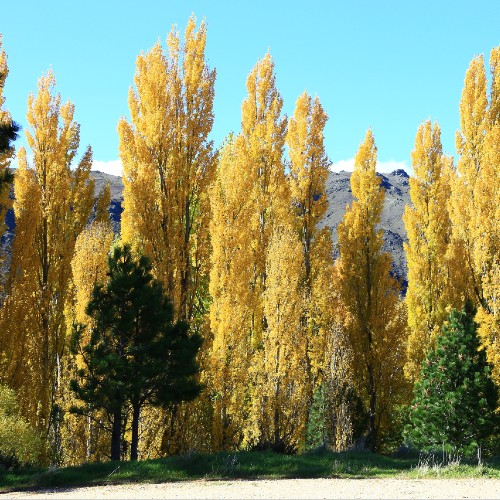 Lombardy Poplar
A particularly fast-growing tree native to Italy, the Lombardy Poplar not only has invasive roots that can wreak havoc on pipes but they are also a messy tree, often dropping leaves and twigs that have to be swept up. They also unfortunately attract pests meaning they are a high-maintenance tree and possibly not worth the hassle.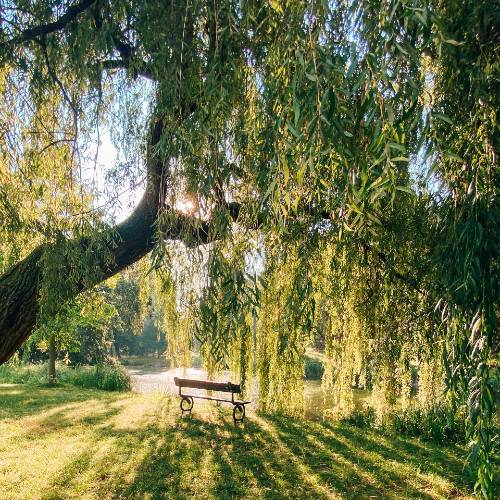 Weeping Willow
Weeping Willows can be big. Very big. Often found along local streams and parks they are certainly large and attractive. This is also their drawback as their root system can spread even further than similar trees. The tree works so hard on being large that it neglects its defence, making it susceptible to disease. This can make them a headache to work with in a garden setting.
Hopefully this list will help you plan your tree planting in the future but if you've already suffered a setback due to invasive roots affecting your water and sewage pipe, don't stress! Select Plumbing and Gas are here to help you with any blocked drain problems,  so don't hesitate to contact us.
You can have peace of mind when you contact Select Plumbing and Gas, with over 10 years experience servicing suburbs across Melbourne.
With thousands of happy customers, Select Plumbing and Gas have built a reputation on reliable service, quality workmanship and great customer service. It's good old fashioned values that our customers love that have allowed us to become one of Melbourne's favourite plumbing and drain specialists.
10% Seniors Discount.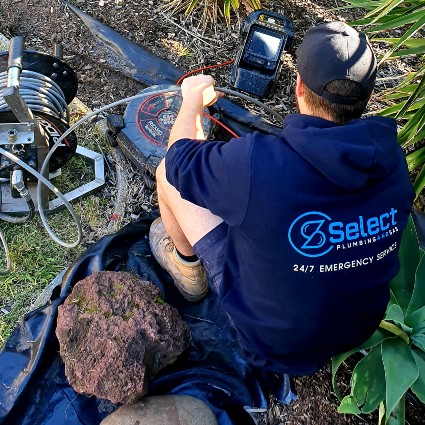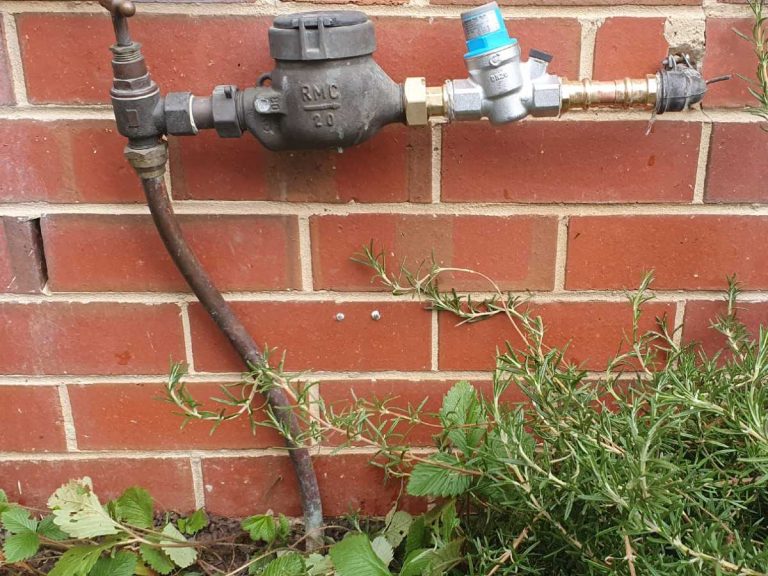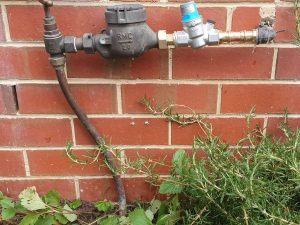 Did you know that high water pressure can damage your appliances or fixtures? PLVs are here to help!
Read More »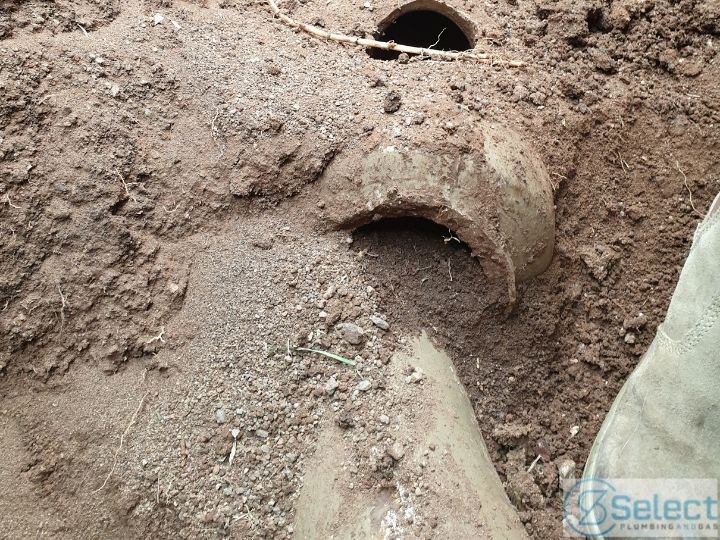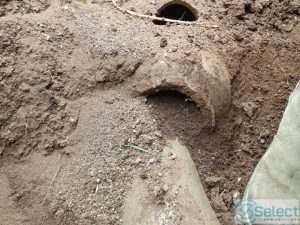 When is a tenant or landlord responsible for blocked drains in a rental property?
Read More »